Get the big EU driver's license online now, fly safely, prevent damage!
FLYING SAFELY means – you get a lot of valuable knowledge and practical experience, so that you can take off with your drone on your own responsibility without running the risk of "crashing" the drone or losing it due to a flyaway. No less important is to have good flight preparation and a minimum of knowledge of the rules and regulations of air transport. Here, a lack of knowledge can quickly become expensive!
Target group: Lateral entrants, beginners, interested drone buyers, drone owners, advanced aircraft with first flight experience
This course requires the so-called "small drone driver's license" A1/A3 EU certificate of competence in order to obtain the A2 EU remote pilot certificate. With the A2-EU remote pilot certificate, for example, you can fly up to 5 meters of people with drones up to 4kg take-off mass. They must carry out all self-declarations required for driving licences in accordance with EU requirements on their own.
The previous A1/A3 exam directly at the LBA includes the following exam content:
–aviation safety,
-airspace restrictions,
-Aviation law,
-General knowledge of UAS,
-protection of privacy and data,
-Insurance, aviation
security -Human performance and its limits,
-Operating procedures
This is followed by the LBA online exam, which consists of a multiple-choice test with 40 questions and a guide to self-declaration about practical skills.
Since January 2021, we have also been offering training courses to obtain the EU Certificate of Competence and the EU Remote Pilot Certificate. As the regional office of DE.PStF.010 UAVDACH-Services UG, we also take the official exam for the EU remote pilot certificate A2 according to the latest Regulation (EU) 2019/947 ourselves online.
We also offer training for the A2 remote pilot certificate at an additional cost. You can also book the training and exam here (LINK) cheaper in the package. This training covers the following topics:
-Meteorology,
-UAS flight performance,
-Technical and operational mitigation of risks on the ground.
Please note that training and the exam are not included in this price.
Included is the course book for independent preparation for the exam, as well as the pure online exam A2 with 32 multiple-choice questions at the droneLIONS Academy by nicopter GmbH, and a guide to the explanation for the practical qualification according to AMC2 UAS. OPEN.030(2)(b).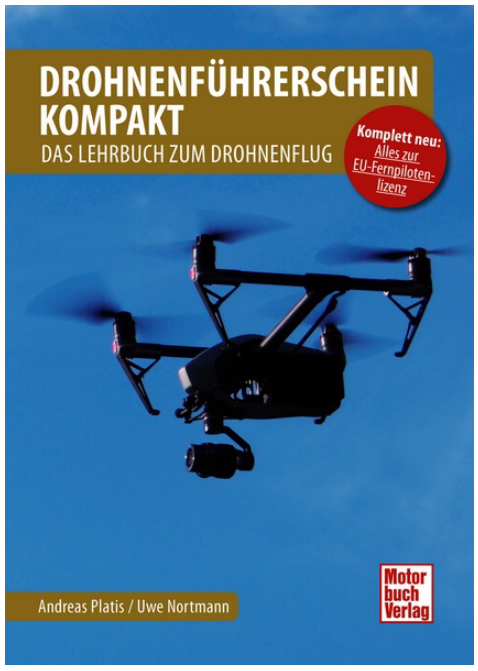 If you have any questions, please do not hesitate to contact us.
By the way: The exam takes place several times a week regularly ONLINE.
The examination contents comply with the legal requirements of the German Federal Aviation Authority (LBA). After booking, you will receive the book by post as well as access to our examination calendar within the examination platform.
The maximum number of participants is limited to 6 participants per exam date.